"In their undivided attention to the Father's word: "This is my beloved Son, with whom I am well pleased" (Mt 3:17), and in their loving acceptance of that word, cloistered nuns are always "with Him on the holy mountain" (2 Pt 1:17-18). Fixing their gaze upon Christ Jesus, shrouded in the cloud of God's presence, they wholly cleave to the Lord." (Verbi Sponsa)
The call to Carmel is a call to an extraordinary way of life... a sublime vocation, but it is offered to ordinary modern young Catholic women no different from yourselves. This call is a personal invitation from God Himself to a life of intimacy with Him through the complete gift of oneself.
~ Prayer ~
In a specific and radical way, cloistered contemplatives conform to Christ Jesus in prayer on the mountain and to his Paschal Mystery, which is death for the sake of resurrection. (Verbi Sponsa)
Today's world needs prayer. We pray especially for priests, for the missions, for the poor, the unemployed, the sick and suffering, the hungry; for all those who call or write us continually with their special needs and intentions. Our morning Mass and the seven times each day when we gather in Choir to chant the Liturgy of the Hours, the official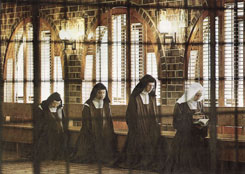 prayer of the Church, consisting of the psalms and readings from Scripture, are all a part of the Carmelite's offering of praise to the Lord and inter-cession for His people. But the real heart of our life is contemplative prayer, the silent, loving person-to-Person relationship with Jesus Christ which makes of the one who prays herself an offering... a living prayer, that draws all that she is and does into Jesus' saving work in a powerful and mysterious way. The life of Carmel is modeled on the life of Mary at Nazareth ~ the quiet, hidden, worshipful service of God and His Will in intimate union with Jesus, carrying out her unique role in the history of salvation.