In the beginning, there were many elements that converged to make Fort Worth Carmel a reality. Not the least of these elements was the delicate and beautiful plan of Divine Providence, which has unfolded so wonderfully through these 49 years.
There are so many wonderful friends who have contributed vitally toward the foundation of this Carmel, all of whom we would like to men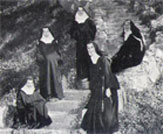 tion here, but in this small space it is not possible to do so. We hope someday to write up the full history, and when this is done you will know the whole story!

Divine Providence made the first move, when a New York attorney sent a $5,000 donation to Oklahoma City Carmel with a letter requesting that this money be used to begin a new foundation of Carmel. This good man acted in response to a sermon he had heard on "Vocations to the Religious Life," and so the Spirit of God did indeed inspire the beginning of our Carmel.

Heading the foundation was Mother Mary Magdalene, later elected its first prioress; with her were four other nuns, including her blood sister Sister Margaret Mary. After trips to and fro looking for a site
, a lovely old home was found in a residential nook downtown, perched on a steep bluff overlooking the Trinity River. Hence the name of the new foundation: Carmel of the Most Holy Trinity.
It was on October 2, 1958, that the Foundation of Carmel in Fort Worth was officially established. On that day, Msgr. Vincent J. Wolf, who was then rector of St. Patrick Co-Cathedral, came in to bless the new Carmel, to seal the enclosure, and to celebrate the First Mass in the tiny chapel of the now cloistered Monastery. Bishop Thomas K. Gorman, who had planned to come but was unable to do so because of illness, had delegated Msgr. Wolf to officiate in his stead.
It was not long after the foundation was established that Our Lord came to
call one of His Spouses to Himself. Mother Margaret Mary, who was Prioress since January 1965, died on March 11, 1967, after having suffered with cancer over a 25 year period. Her death was a devastating blow to the young community, but we know that Mother Margaret is still with us interceding for us and sharing in all our concerns, along with our other three Sisters already in Eternity. With grateful affection we remember them and the precious gift of their lives to God in Carmel, living the hidden life of prayer and sacrifice for the Church and the whole world.
By 1977 it was clear that the possibilities for further expansion of our small city lot were exhausted. Through the generosity of a longtime benefactor, a beautiful, wooded 56 acre tract of land was purchased in Arlington, a fast-growing city between
Fort Worth and Dallas. It was ideal: secluded, yet central to our wide circle of friends and altar bread customers. In collaboration with the nuns, our architects designed a striking building, one that is most often described in terms of its beauty and simplicity and its unique blend of both the classic and traditional.
And for us, so wonderfully suited to the monastic life.
Before leaving Fort Worth, we celebrated the Silver Jubilee of our Foundation in 1983. At that time we were in the process of building our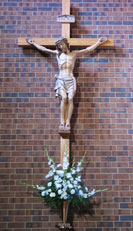 new monastery in Arlington, and the community was happy to move in on November 28, 1984. The Dedication of our Chapel and Open House took place in May of 1985. Since that time we have made additional enhancements to the grounds with landscaping and walkways, etc.
We made altar breads and did ceramic work when we were in Fort Worth and during the first years after our move to Arlington. At present we are engaged in art and printing work, hand crafts, Newsletters and Novenas as a means of communication with our friends and benefactors, and other work necessary for the upkeep and care of our monastery and garden areas.
In December of 1999 we hosted the Visit of the Relics of St. Therese to North Texas. It was a time of wonderful graces and blessings for our community and for the people of this region as an estimated 50,000 came to venerate the Relics and express their devotion to our dear Little Therese.
In October of 2008 we will celebrate the 50th Anniversary of our Foundation. May God be praised for His blessings to us during these may years in the Diocese of Fort Worth.
Praised be Jesus Christ!