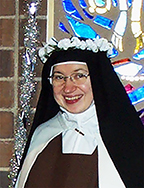 NOTICE

ON TUESDAY, MARCH 29TH
Our beloved Sister Mary of the Precious Blood of Jesus
passed from this life to her eternal reward.

We ask your prayers for her soul, and
for our community as we remember our beloved Sister
and her generous gift of self to God and His people.

Visitation: Monday, April 4, 2022 from 6 to 9 p.m.

Rosary: Monday, April 4, 2022 at 7:00 p.m.

Funeral: Tuesday, April 5, 2022 at 10:00 a.m.
We invite you to browse through our web site and visit our online Gift Shop where you can purchase religious items designed and made by the Nuns. May God bless you!